No Free EC kits will be shipped from 12/18/23 through 1/2/24; all orders placed during this time will be filled in early January. Please visit one of our community distribution partners (below) during their hours of operation to pick up a Free EC kit during our holiday break.
What's Free EC?
Emergency contraception (EC) is birth control that can be taken after sex. 

EC works better the sooner it is taken – it can be taken up to 120 hours or 5 days after unprotected sex to lower your chance of becoming pregnant. It is most effective if taken within 72 hours or 3 days of unprotected sex by people at or below 165 lbs. There are more effective methods for folks who weigh more than 165 lbs; find a health center near you to chat with a provider about your options, like ella and IUDs.

While supplies last, Missouri Family Health Council, Inc. (MFHC) is offering Free EC kits to anyone of any age. Locate a distribution partner near you below, or enter your mailing address into the form below to confidentially request a free kit by mail.
---
Find EC Near You
MFHC has joined with health centers and other community partners to distribute Free EC kits throughout Missouri. Click here to view a list of community distribution partners to pick up Free EC near you.
---
Get Free EC by Mail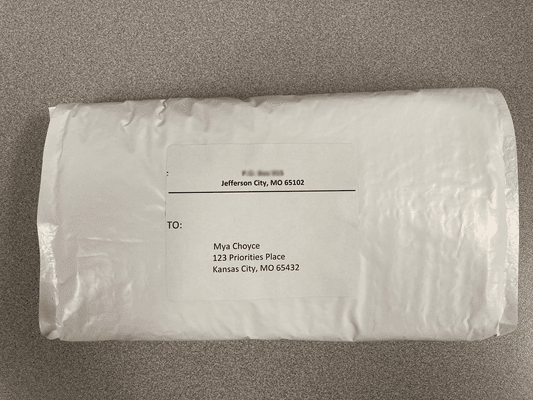 Use the form below to confidentially request Free EC by mail. 
We respect your privacy. All kits are mailed in packages like ones above – you will not be able to tell what's inside the package. Your name and mailing address will be destroyed after the package ships.
We are only able to send Free EC kits to Missouri addresses. If you live outside Missouri and need EC, use the national Title X clinic finder to locate a health center near you. 
All kits are shipped via USPS and usually arrive within 5-7 business days. We are unable to express ship EC. If you need more immediate access to EC, it can be purchased over the counter at retail outlets, like Walmart, Target, or CVS.
---
Questions?
Click here to get answers to some frequently asked questions about MFHC's Free EC project. Have a question not answered in this document? Email us! You can also browse our Patient Resources page for additional information, including our abortion resources PDF.
---
Why Free EC from MFHC?
Missouri Family Health Council, Inc. (MFHC) believes everyone should have the opportunity to create the future they want – including if, when, and under what circumstances to get pregnant – which is why we're proud to offer Free EC in addition to our Title X and The Right Time sexual and reproductive health services.
We also advocate for increased access to reproductive healthcare at the state and federal levels. If you're tired of the attacks on our rights, get involved with our work here! Want to help increase access to reproductive health services across Missouri? Make a gift to MFHC to sustain our work.

Our Impact
Data from January 1, 2022 through December 31, 2022